Is it time to replace your Bi-Fold Doors?
Is it time to replace your Bi-Fold Doors?
Redefining Indoor/Outdoor Living
Perfect Blend of Functionality and Aesthetics
At California Energy Contractors, experience a luxurious transformation in your living space with Bi-Fold doors from California Energy Contractors. Designed with versatility and elegance in mind, Bi-Fold doors bring the charm of the outdoors inside your home, redefining your space with a sophisticated touch. Our Bi-Fold doors are meticulously crafted to accommodate expansive areas of glass, bringing an abundance of natural light and seamless connectivity with the outdoor environment. They are constructed with two to eight panels that fold smoothly to one side along an extruded aluminum track, thus enabling you to stylishly and effortlessly connect your space to the outdoors or to another room. Enjoy true indoor/outdoor luxury living with our state-of-the-art Bi-Fold doors.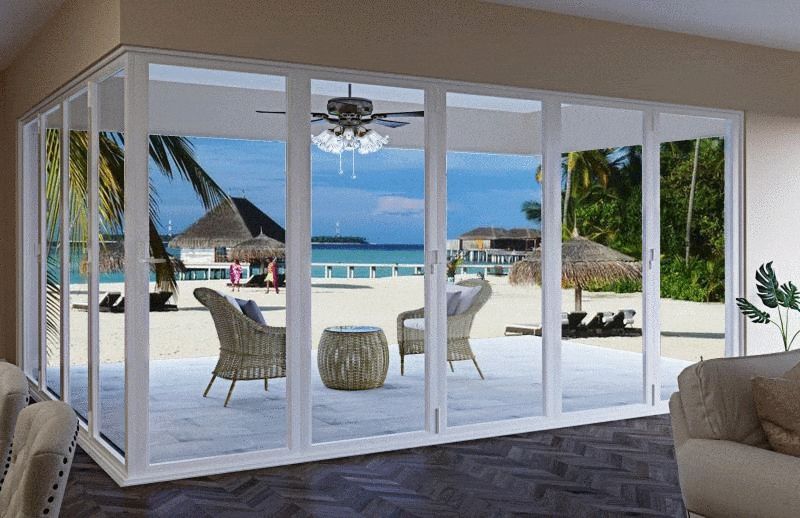 Customization and Ease-of-Use
When it comes to commercial properties, a well-maintained and sturdy roof is crucial for the success and safety of your business. At California Energy Contractors, rur Bi-Fold doors come with an elite hardware system, engineered specifically for folding doors, guaranteeing easy and smooth operation. The doors are available in both inswing and outswing configurations, giving you the flexibility to choose a style that best suits your space. We pride ourselves on delivering a strong, durable product that not only looks good but also performs exceptionally. The perimeter frame, rails, and stiles of our Bi-Fold doors are box sections, contributing to enhanced strength and robustness. Wide and chunky rails offer a solid appearance, and for added impact, we also provide heavy-duty Top Hung rails.
Color Options and Glass Choices
To complement the aesthetic of your home
Color Options – California Energy Contractors offers doors available in standard colors: White, Almond, and Cap-Stock Bronze. We also offer a multitude of glass options. For safety, we use grade 'A' safety glass on doors and full-height fixed glazing.

Economical – For colder climates, we offer double or triple pane glazing. Our 1-1/8" hermetically sealed insulating glass keeps the cold out in winter, ensuring your home stays cozy and warm.

Top Quality – California Energy Contractors; trust us to deliver exceptional craftsmanship and seamless installation, providing you with Bi-Fold doors that not only enhance your living space but also deliver optimal energy efficiency. We are committed to exceeding your expectations with our superior product and service.
Our Partners
All our products are available with Manufacturers Lifetime Warranties and all work is 100% GUARANTEED. Our objective is to consistently provide the highest quality products, fair pricing and exceptional customer service.
18 months financing. No interest and no payments for 18 months on approved credit.
We are happy to answer any questions you may have!