The Anlin Panoramic windows are the company's contemporary designed windows that offer a grander view of the outdoors and invite more light into your home. They include slim profile frames to create a sleek and modern look. The Panoramic window series offers homeowners a combination of premium features, quality, and value. They are built for optimal performance and use the latest energy-saving technology to provide maximum savings. Here are the different operating styles for the Panoramic windows:
Single slider
Single-hung
Picture
Geometric
If contemporary style, durability, energy-efficiency, and maximum viewing area are important to your, the Anlin Panoramic windows are for you! They're made with multiple inner chambers and thick vinyl to help reduce the flow of heat and cold air through the frame. The window locks are designed with continuous interlocking metal reinforced meeting rails to provide weather-tight performance and tamper-proof security. Panoramic windows are exclusively sold and installed by a limited amount of trained and certified authorized dealers.
Panoramic Window Features
Infinit-E: A triple layer exterior coating that reflects and reduces the amount of solar heat that enters the home on hot summer days.
Argon Gas: This invisible gas provides a layer of insulation between the glass panes that slows the transfer of heat through the window. This optional upgrade increases thermal efficiency up to 15%. (Included in QuadraTherm and optional in Infinit-e Plus).
QuadraTherm: A multi-layer heat retention coating that keeps the warm air inside your house on cold days and nights. Optional upgrade.
Anlin Armor: A protective film that's easy to peel off, keeping your windows in pristine condition from manufacturing to installation.
PLUS Easy Clean Coating: An exterior coating on the glass that uses the sun's UV rays to break down dirt and pollutants to keep your windows cleaner for longer.
Platinum Elite Spacer: Anlin uses the most advanced, low conductance, commercial rated, thermally efficient warm edge spacer in the replacement window industry.
True Dual Seal: The seal is an engineered moisture vapor barrier fused with a commercial-rated 2-part structural silicone, assuring life durability.
Moisture Stop: A Silica drying agent that continuously extracts moisture vapor from within the unit.
Additional Upgrades
Sound Package: This window package is the smart choice to block unwanted outdoor noise. The AnlinSR50 Sound Reduction Glass includes sound suppression technology that reduces outdoor noise by up to 50% compared to standard dual pane windows. We can add this package to windows throughout your home or individual windows that face streets or other sources of noise.
SunShield: This technology combats extreme solar heat with a blue/gray tinted triple silver coating engineered to reflect the sun at its peak temperatures. SunShield will dramatically reduce solar heat and lower homeowners' cooling costs during the hot summers.
Safety Tempered Glass: All Anlin windows have the option to upgrade to tempered glass. This glass is four times stronger than standard glass and will crumble into circular chunks when broken. Compared to jagged shards, the chunks reduce the potential for serious injury.
Window Frame Colors
We understand it's vital that your new replacement windows match the look of your home. In addition to a variety of window styles, we offer a range of color choices for your frames as well. The solar reflective paint works in tandem with the windows to keep the heat from entering your home on hot days.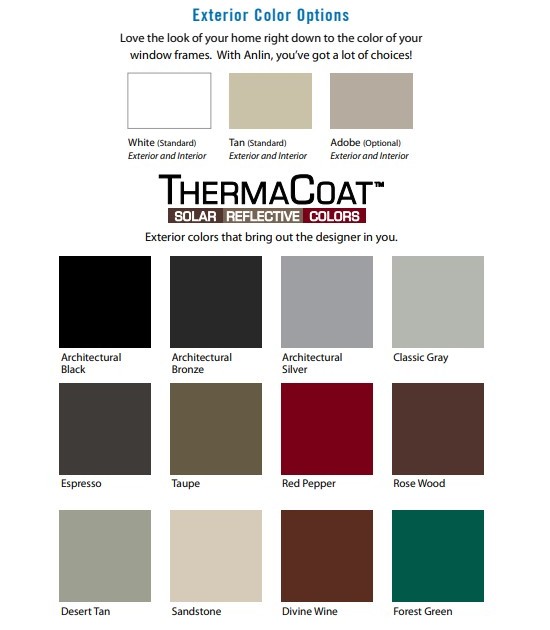 California Energy Contractors
For energy-efficient, modern-looking windows with maximum visibility, choose the Anlin Panoramic windows! They're backed by a double lifetime warranty, the best in the industry. As long as you live in the home, Anlin will cover the cost of parts (including all hardware), vinyl, insulated glass unit, accidental glass breakage, exterior vinyl coating, screens, labor, and freight. This incredible warranty is transferrable to the next homeowner if you ever decide to sell your home. If you'd like to learn more about the Anlin Panoramic windows, give us a call at (855) 779-1413 or contact us through our website.