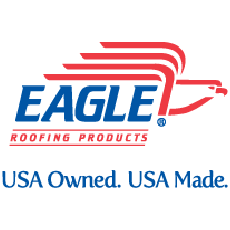 Eagle Roofing Products is a division of Burlingame Industries, a California based privately held,family-owned organization that has been in the concrete tile industry for over 40 years.
Eagle is Peace of Mind
An Eagle concrete tile roof is one of the longest lasting roofing products you can buy. Unlike some other roofing materials, it is engineered to last for the life of the structure. Plus, our tile is tested to the highest standards in the industry for impact resistance, fire, high-wind, seismic forces, and freeze-thaw protection.
The Quality, Performance and Lasting Beauty of Concrete Roof Tile is Unmatched
Whether you are a building professional or a homeowner, choosing the right roofing material for your residential or commercial project can be challenging. It can lead you to choose the cheapest or most common roof covering, but that doesn't necessarily mean it's the best. That is why Eagle Roofing Products has compiled a list of facts for concrete roof tile to help make your decision an easier one.
Superior Performance
There is no denying the true craftsmanship behind every piece of Eagle concrete roof tile. The exquisite artistry at work delivers stunning aesthetics and unparalleled durability and protection. Produced through a careful combination of four natural products – sand, cement, water and iron oxide, concrete roof tiles are incredibly resilient withstanding the harshest of weather elements.
A Sophisticated Color Palette
Color can be a powerful accent and makes any design come alive. When you choose Eagle, you are given the flexibility to pick among the most robust selection of ranges, hues and blends. Take it a step further with the opportunity to mix and match existing blends in the same profile, so you have a unique color combination that is all your own.
At Eagle, we say "cue the color!" We've got you covered from vibrant reds, to oakey browns, warm coppers, rusty golds, charcoal hues, plum undertones, soft greens and neutral tans. No matter which shade or profile you choose for your residential or commercial project, a concrete tile roof delivers undeniable curb appeal and sophistication like no other.
Additional Facts:
Eagle roof tile produced in our Phoenix, AZ, Stockton, CA and Sumterville, FL manufacturing plants have been hail tested and rated, resisting hail stones up to 2" per FM 4473. 
Eagle's concrete roof tile exceeds current seismic load requirements when properly fastened.
A concrete tile roof is one of the more environmentally friendly choices of all construction materials, as it is made from non-toxic raw ingredients and can be recycled and reused in manufacturing.
A properly installed concrete tile roof requires little maintenance or repairs and is known to last the life of the structure it is on, outperforming all other roofing materials.
0 Interest. 0 Payments for 18 months [on approved credit] – Call for details