Our 3 panel patio doors look incredible on any home! They're both functional and aesthetically pleasing. The 3-panel patio doors offer the same functionality as the 2-panel but bring in more natural light and gives you an additional outdoor viewing area. They're made with the same energy-saving technology as our windows, helping lower your monthly energy bills. Hot air will stay out during summers, and warm air will stay in during the winters! The French swinging doors and sliding patio doors will effectively insulate your home and come with some great optional upgrades, like added security glass! Check out a couple of the benefits our patio doors come with:
Beautiful appearance
Great traffic flow
More natural light
Improved airflow
Energy-efficient technology
Maximizes space (for sliding doors)
Great outdoor view
Heavy-duty locking system
Optional upgrades & features
Double lifetime warranty
The 3 panel sliding patio door features three panes of glass with one moveable piece and two fixed doors. The moveable pane can be placed on the left, middle, or right-hand side. They come in the XOO, OOX, and OXO configurations from the image below.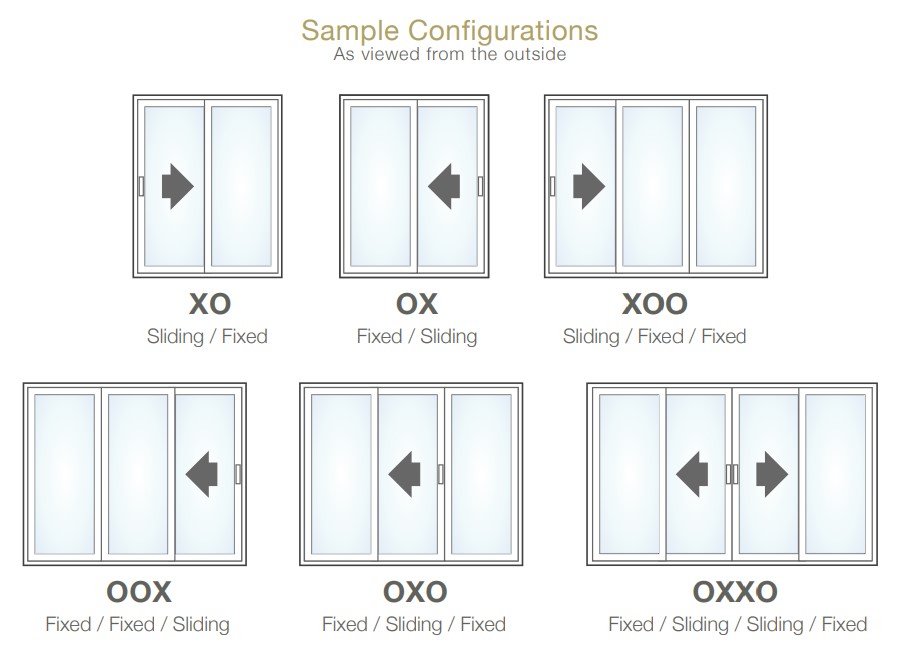 The swinging French doors include two fixed panes of glass and one operable panel in the middle. They'll give your home an elegant look without sacrificing your outdoor view or natural light. They come in the OXO configuration from the image below.