Enhance the beauty of your home, both inside and out.
Enhance the beauty of your home, both inside and out.
Anlin's Malibu Sliding Patio Doors
Anlin's Malibu Sliding Patio Doors offered through California Energy Contractors are designed and built to enhance the attractiveness of your home, to be easy to operate for as long as you own your home, and to help you save energy. They include features like the QuadraTherm Ultimate Dual Pane Insulation System or Infinit-e Plus High Performance Glazing System, oversized metal rollers, steel-reinforced vertical stiles, forced-entry resistant two-point locking system, and many other features that will give you a lifetime of beauty, comfort and energy savings.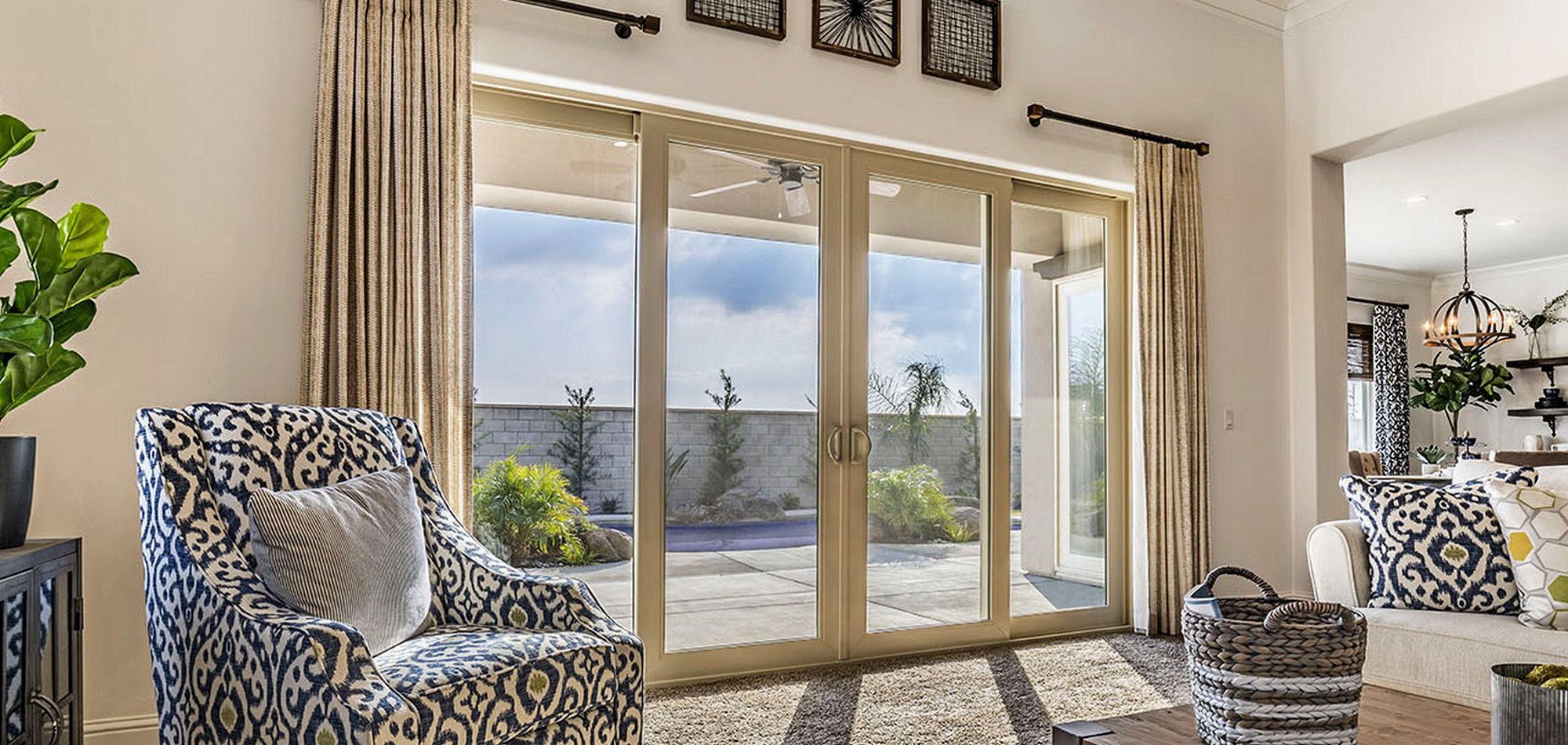 As you consider your decision about which windows and patio doors will work best for your home, we hope you find the following listing of the features and options helpful. Of course your Anlin dealer representative will be happy to show you samples and answer any questions.
Features
THE BEAUTY OF YOUR HOME
Malibu Sliding Patio enhance the beauty of your home, both inside and out. Each door is custom built with high quality design and craftsmanship, so you'll enjoy lasting elegance.

THE BENEFITS OF VINYL
Our vinyl is engineered and formulated to exceed the demands of moderate to hot climate zones (West Coast). Our vinyl is made from a proprietary blend of resin and UV stabilizers maximizing performance that will last a lifetime. The vinyl also acts as an efficient thermal barrier that helps reduce your home's heating and cooling costs.

THE PAYBACK OF ENERGY SAVINGS
Energy efficient vinyl is just the beginning. Combined with Anlin's proprietary INFINITE PLUS High Performance Glazing System and up to triple-strength safety tempered glass, Malibu Sliding and French Swinging Doors greatly increase the comfort of your home while reducing energy costs.

THE CONFIDENCE OF SECURITY
With Malibu Doors, heightened security is standard. With multi-point locking systems and metal reinforced sash panels, Anlin's Malibu Doors passed stringent California Forced Entry (CFE) resistance tests.
Our Partners
All our products are available with Manufacturers Lifetime Warranties and all work is 100% GUARANTEED. Our objective is to consistently provide the highest quality products, fair pricing and exceptional customer service.
0 Interest. 0 Payments for 18 months [on approved credit] – Call for details
We are happy to answer any questions you may have!