The Anlin Coronado windows is the company's premium window series offered only through a limited amount of trained and certified Anlin authorized dealers. They're designed to be used throughout the home or as a companion product to other Anlin window series. They provide the additional window frame depth required for certain windows operating styles, such as double-hung or casement windows. Here are the different operating styles for the Coronado windows:
Double slider
Double-hung
Casement
Awning
Bay & bow
Garden
They're built for optimum performance and provide homeowners with maximum savings no matter the outdoor climate. The series comes with many incredible features and upgrades, including multiple frame colors and glass packages. Check out some of the features available for the Coronado series below.
Coronado Window Features & Upgrades
Infinit-E: A triple layer exterior coating that reflects and reduces the amount of solar heat that enters the home on hot summer days.
Argon Gas: This invisible gas provides a layer of insulation between the glass panes that slows the transfer of heat through the window. This optional upgrade increases thermal efficiency up to 15%. (Included in QuadraTherm and optional in Infinit-e Plus).
QuadraTherm: A multi-layer heat retention coating that keeps the warm air inside your house on cold days and nights. Optional upgrade.
Anlin Armor: A protective film that's easy to peel off, keeping your windows in pristine condition from manufacturing to installation.
PLUS Easy Clean Coating: An exterior coating on the glass that uses the sun's UV rays to break down dirt and pollutants to keep your windows cleaner for longer.
Platinum Elite Spacer: Anlin uses the most advanced, low conductance, commercial rated, thermally efficient warm edge spacer in the replacement window industry.
True Dual Seal: The seal is an engineered moisture vapor barrier fused with a commercial-rated 2-part structural silicone, assuring life durability.
Moisture Stop: A Silica drying agent that continuously extracts moisture vapor from within the unit.
Window Frame Colors
We understand it's vital that your new replacement windows match the look of your home. In addition to a variety of window styles, we offer a range of color choices for your frames as well. The solar reflective paint works in tandem with the windows to keep the heat from entering your home on hot days.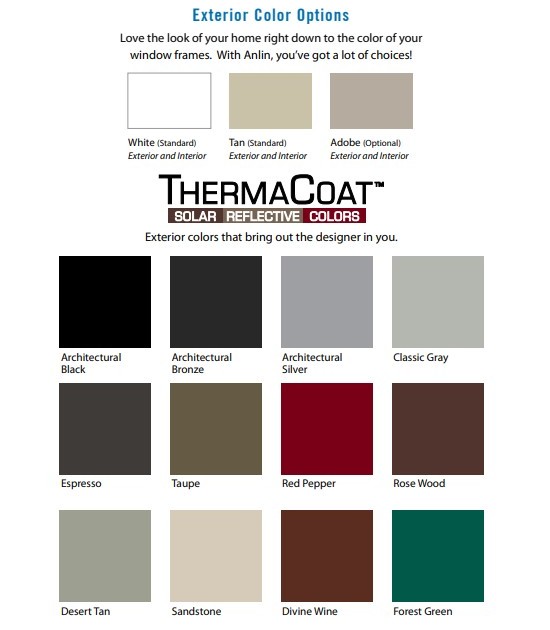 California Energy Contractors
When choosing the best high-quality window replacements, you can't go wrong with Anlin Coronado windows. They're backed by the most inclusive warranty in the industry, a double lifetime warranty! If you live in the home and ever need warranty window repairs, Anlin will fix your windows free of charge. This warranty is fully transferrable to one subsequent homeowner if you decide to sell your home. If you'd like to learn more about these industry-leading energy-saving windows, give us a call at (866) 963-0316 or reach out to us through our website.