Are you ready to have your home's exterior painted or coated? Perhaps your home is looking dated with fading, peeling paint, or maybe you're just tired of the existing color scheme. Regardless of the reason, it can be quite a challenge to choose the perfect colors for your home's exterior. It doesn't seem very difficult, but the homeowners tend to become more and more confused when they look at multiple shades of paint. We would like to prevent you from having nightmares about paint chips, so in this article, we will share our contractor's tips that will help you decide what color to paint the exterior of your home.
What Makes Exterior Paint Color Selection So Important
Are you wondering why the decision about the exterior house paint color is so important? We can name quite a few good reasons not to make a rash decision while selecting the exterior paint colors. It is difficult to hide your home exterior. If you paint a room in a questionable color, nobody has to see it; on the contrary, you can't hide the facade of your home, and you can't conceal it from the visitors and passersby. Also, if you decide you can't live with the color, it is much more expensive and time-consuming to repaint the exterior of the house or change the color of the exterior coating than to repaint an interior room.
Check Bylaws for the Exterior Paint Color Restrictions
Before you paint, it's always a good idea to check the bylaws if you live in a neighborhood with an HOA or similar governing body. Many homeowners associations limit the color options for home exterior projects. That may include your shutters, trim, and other elements of your home's architecture. The explanation behind the HOA's restrictions in your paint color is to protect the overall architectural integrity of the neighborhood and for the overall consistency. Potentially, one house that is painted very poorly can negatively affect the values of the other houses in the community.
It is also possible that the organization will have a list you must choose from that provides the acceptable colors. Sometimes there is no fixed list of exterior colors, but homeowners must have their exterior paint colors authorized by the HOA. This authorization process might take time, so it is a good idea to check with the homeowners association as soon as you decide to paint your exterior. Figure out if there are any restrictions for the exterior paint color and if so, then find out what the process is for receiving approval.
Observe the Exterior Paint Colors in Your Neighborhood 
The other homes in the community can help you guide your color scheme decision even if your home doesn't have an HOA. Selecting a palette that works with nearby homes is a neighborly move; however, it doesn't mean that you have to make your home look like a carbon copy of the neighboring homes. For example: if you want something darker but live in a neighborhood full of white houses, instead of going too dark, stick with something midtone. That will prevent you from looking too dark for the neighborhood, and you still get a color other than white. You can also use darker colors for trim or accents and stick with a lighter main color. This option will allow you to be subtle in including darker colors.
It also matters how close the homes are to each other. The homes that are very close by will clash, and the mismatch colors will stand out more prominently. And those color differences don't tend to be as noticeable if the homes sit on large lots with plenty of space in between.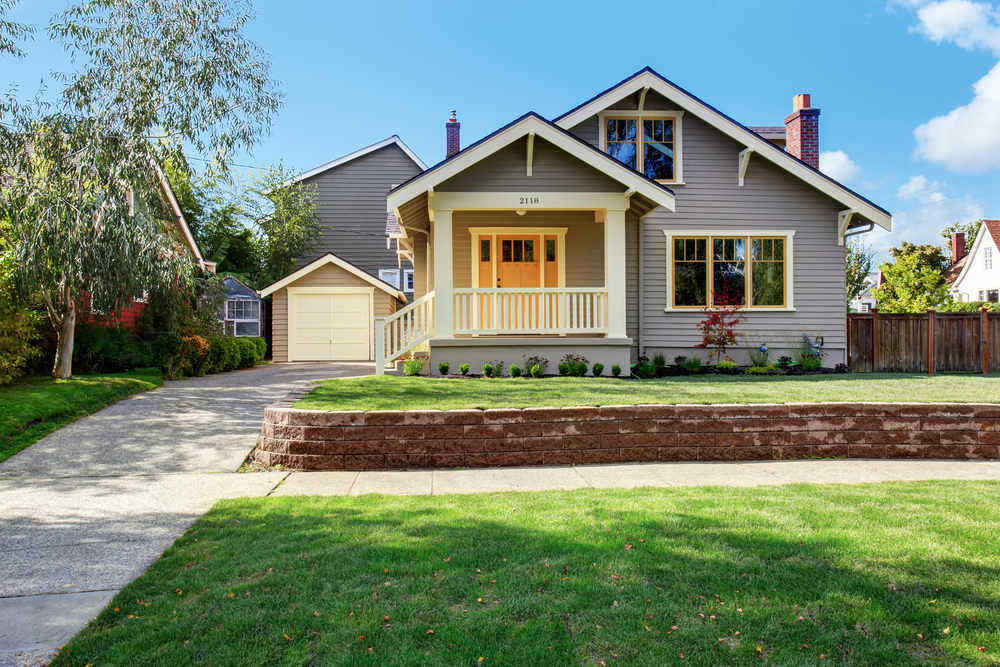 Draw Inspiration from Nature
You can draw inspiration from the natural elements surrounding your home. You can choose to go with a color scheme that blends in and complements your natural surroundings rather than standing out. You may not want to camouflage your home; however, finding inspiration from natural elements will help your home fit in with its surroundings. Your home's location and your specific climate can also help you create a color scheme. The natural colors of a desert area versus that of a coastal area can be really different, so depending on your area's climate, you may want to do some research on the right color scheme for your home.
Consider Elements That Will Not Change
Your home's façade includes much more than just siding and trim. Elements such as stonework and your roof type all play a big role in the overall look of your home. Unless you're renovating all elements of your home, it's best to consider colors that go well with all elements. For example, if your home has stone accents, look for a subtle color in the stones to use as a primary color for your home. By doing this, you will make your stone stand out. Take the time to explore all aspects of your home and see what colors will help these elements pop!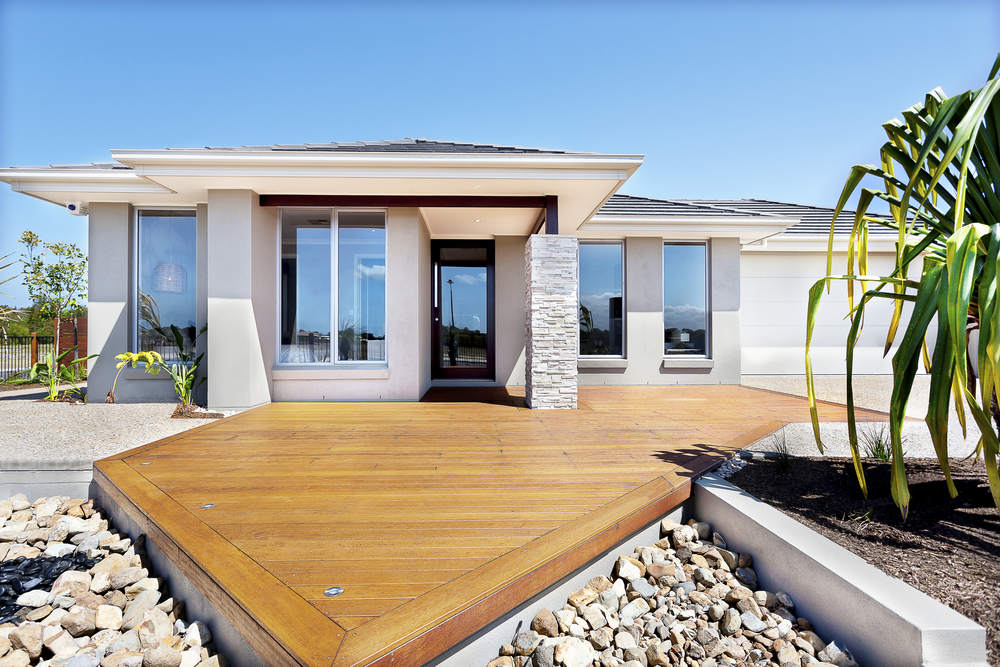 What Visual Impact Are You Aiming For? 
Colors play a big role in the appearance of your home, from how large it looks to which parts draw attention. Before deciding on a paint color, decide what type of visual impact you want to create. Do you want your home to appear larger? Do you want your home to stand out and look majestic? Or do you want to downplay certain features you don't find appealing? Keep in mind the following visual influences when choosing the right colors:
Larger appearance – If you want your home to appear larger, you'll want to go with a light color scheme. Good examples include pastels colors, light tans, and whites.
Elegant Appearance – If you want to give your home a classier, more modern look, going with dark colors is a smart idea. The use of a dark primary color with light colors on elements such as trimming gives homes a beautiful pop of contrast.
Increased Attention – If you want to make your home stand out, you might want to go with bright colors. Bright colors such as yellow and orange can help make your home more noticeable.
Minimizing Appearance – Many homeowners like blending in with the crowd, and that's okay too. Neutral colors can help make your home less noticeable. If you don't like certain architectural features of your home, you can downplay them with neutral colors.
Choosing the perfect colors for your home is no easy task. It's important that you analyze your home, neighborhood, and personal preferences before making a decision. We hope these contractors' tips on how to choose the right exterior paint colors helped you decide on the perfect color. If you're ready to start painting your home, the expert team of home painters at California Energy Contractors is always ready to help! Let us take the hard work out of painting your home with our fully trained team of professionals! Give California Energy Contractors a call at (855) 779-1413, or click here for a free estimate!