Has the time come for you to replace your roof? If so, you may be wondering which type of roof is best for your home. There are many roofing system options out there, but the choice usually narrows down to two options: 25-year roofing systems and 50-year roofing systems. Which one will be more beneficial for you? Is it worth investing in a 50-year roofing system? In today's blog, we will be covering the difference between these two roofing systems and how to qualify for their warranties.
25 Year Roof vs. 50 Year Roofing System
GAF roofing systems offer homeowners one of the best warranties in the industry. A GAF roofing system with a 25-year limited warranty gives homeowners basic protection they can trust. This warranty is available on all GAF roofing systems that have a silver "25 Year" diamond badge. However, you can get a 50-year lifetime warranty on a GAF roofing system if you install any GAF Lifetime shingle with at least three qualifying GAF accessories. This warranty option offers the most protection. This means that if any roofing component fails, it will be covered for up to 50 years! It's important to remember that only GAF-certified contractors can offer their warranties. This is done to ensure that you have the highest levels of confidence in your contractor and the quality of their craftsmanship.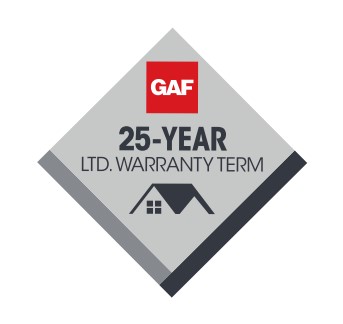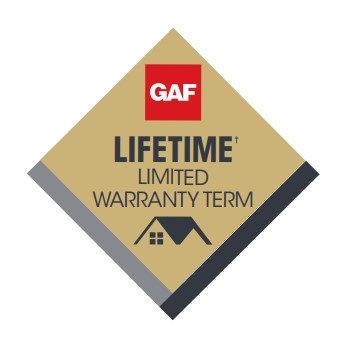 What are the Qualifying GAF Accessories Eligible for a Lifetime Limited Warranty?
In order to enable your Lifetime Limited Warranty, you need to select three qualifying accessories. These accessories include:
Leak Barriers – Help prevent leaks caused by wind-driven rain and ice dams
Roof Deck Protection – Helps shield the roof deck from moisture infiltration
Starter Strip Shingles – Help guard against shingle blow-offs at the eaves and rakes
Cobra® Attic Ventilation – Helps reduce attic moisture and heat
Ridge Cap Shingles – The finishing touch that helps defend against leaks at the hips and ridges.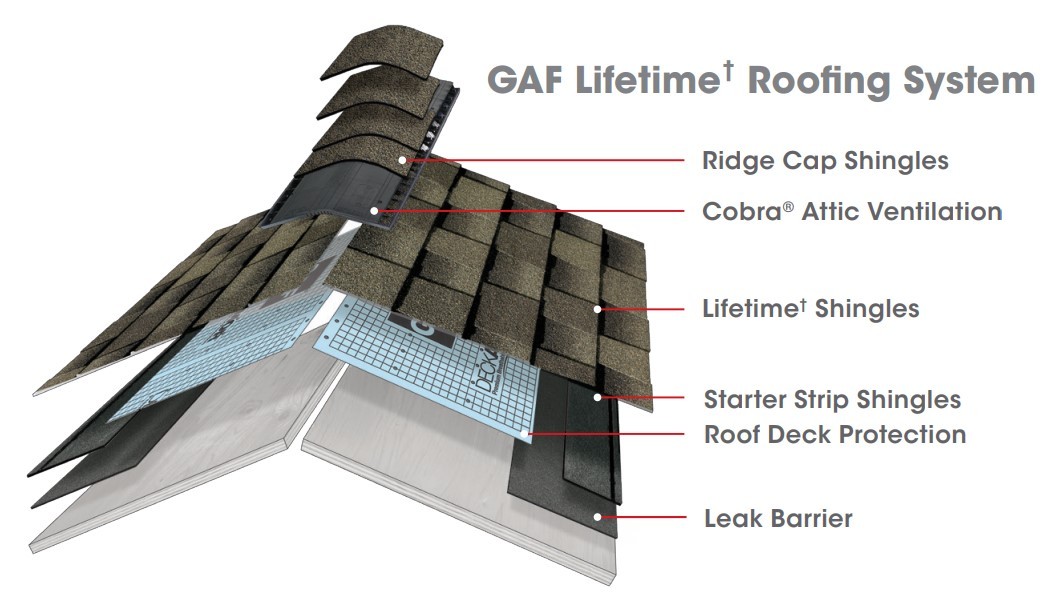 GAF Accessories covered under this limited warranty include: GAF Leak Barrier products, GAF Starter Strip Shingles, Roof Deck Protection products, Cobra Ventilation Products, and GAF Ridge Cap Shingles.
The Lifetime Shingles and qualifying GAF accessories are listed in the charts below: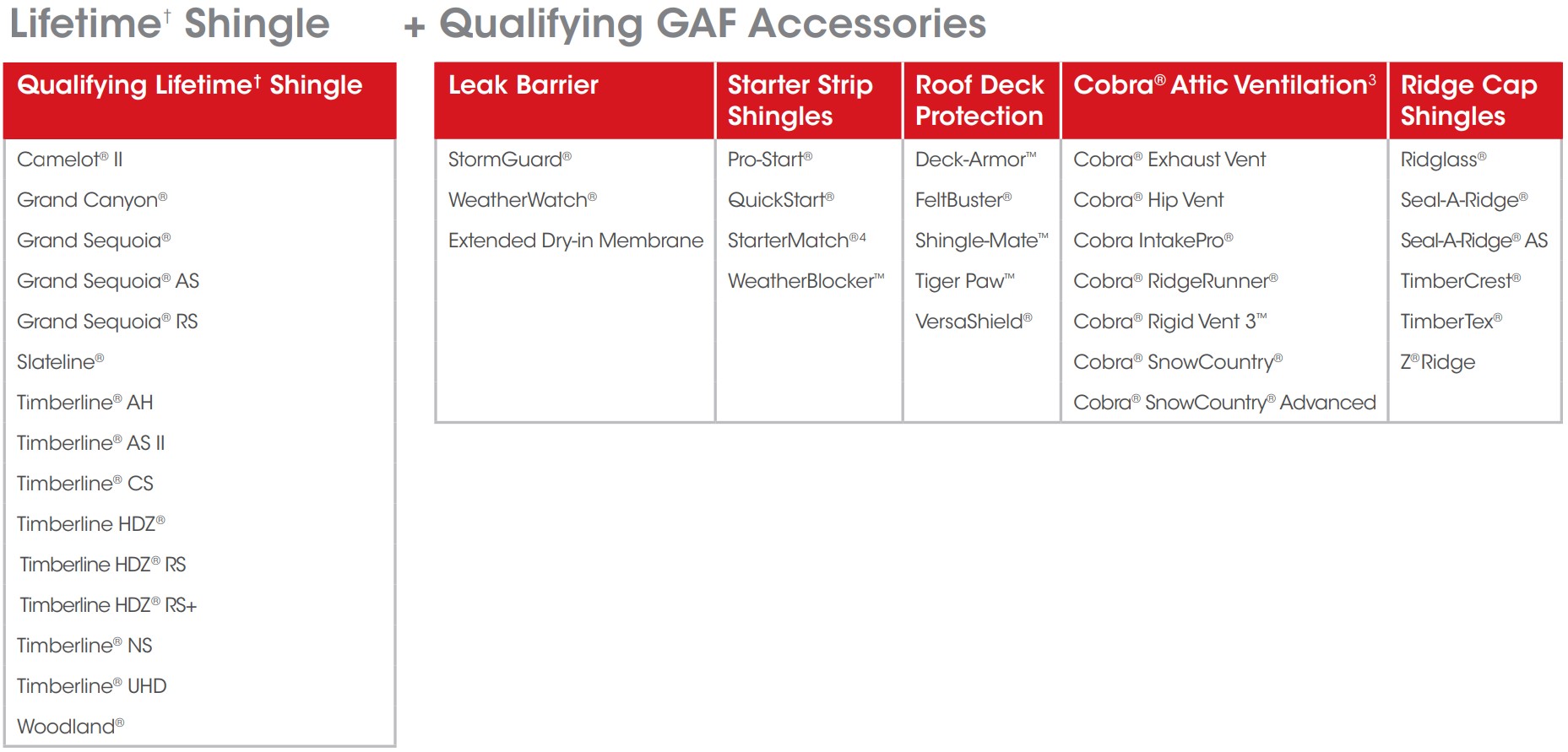 What Does "Lifetime" Refer to?
The word "Lifetime" means as long as you, the original owner (or the second owner if coverage was properly transferred during the Smart Choice Protection Period), owns the property where the shingles and/or accessories are installed. The Lifetime warranty is applicable only to shingles and accessories installed on a single-family detached residence owned by individuals. For any other type of owner or building, such as a corporation, governmental entity, religious entity, condominium or homeowner association, school, apartment building, office building, or multi-use structure, the warranty is 40 years.
The Benefits of 50-Year Roofing Systems
One of the most overlooked aspects of roof installs is that approximately two-thirds of roofing problems directly result from faulty workmanship on behalf of the installing contractor. GAF's Lifetime Limited Warranty takes traditional coverage one step further, by offering protection against manufacturing defects of all major GAF parts, as opposed to only covering shingles. This means that if any roofing component fails, it will be covered for up to 50 years! If you decide to sell your home, the warranty will be transferred to the second owners if they contact GAF 60 days after the purchase of the house.
Roof replacements can be one of the biggest investments you can make in your home, so it's a smart idea to be protected with a warranty that will back you up in case something goes wrong. At California Energy Contractors, we install high-quality GAF roofing systems that come with extraordinary warranty benefits. If you install any GAF shingle with at least three qualifying GAF accessories, you can enjoy a lifetime warranty on your qualifying GAF products! Contact us today to learn more about our reliable roofing systems and their strong warranties! Give us a call at (855) 779-1413, or click here for more info!