Walk-in tubs are an excellent alternative for seniors and others who have difficulty lifting their legs to get into a warm bath. Rather than climbing over the wall of the tub, a walk-in tub has a door which can swing either inwards or outwards to allow the user to step into the tub with ease. This lowers the risk of slipping and falling, making these tubs for the elderly incredibly safe.
That swinging door is the most basic element of a walk in tub for seniors, but there are more sophisticated features you can add to make the bathing experience more comfortable.
If you're considering renovating your bathroom with a walk-in tub, you might want to consider these other amazing features.
Safety Features
Preventing slips and falls is a critical reason for switching to walk in bathtubs for seniors. The following safety features come standard with a walk-in tub.
Contoured ADA-Compliant Seat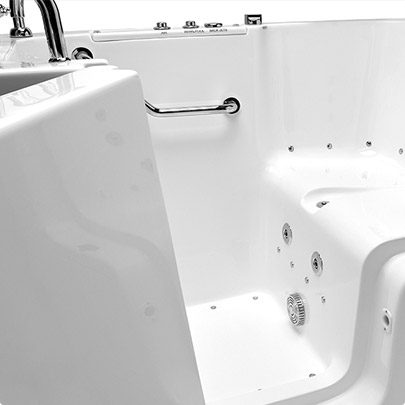 These bathtubs include a 17-inch-high contoured seat, which is ADA-compliant. This seat adds both safety and comfort to senior bathtubs. Users can maneuver securely in and out of the tub without the help of others. This also adds independence to the bathing experience that is unrivaled by the standard tub.
U-Bar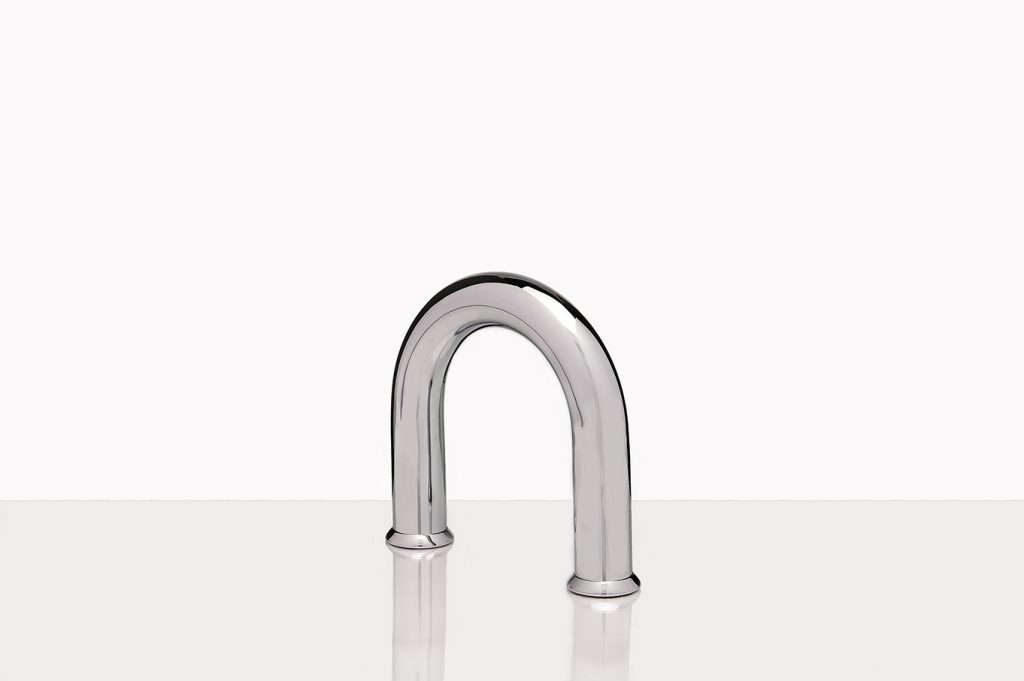 Every walk-in tub for the elderly needs an added level of safety. The U-bar is placed near the faucet so that users can adjust themselves once already inside the tub without the risk of slipping. It also provides balance when entering and exiting the bath, which can be the difference between safety versus a slip and fall.
Bathing Support Harness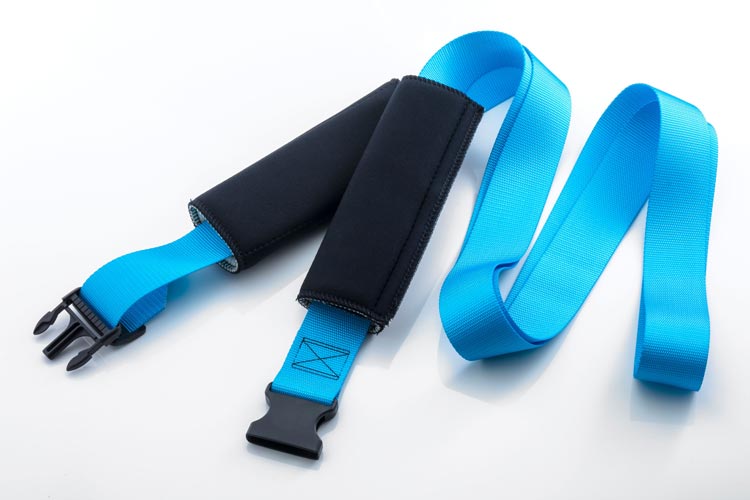 The bathing harness supports individuals with mobility issues. Soft yet study straps along with a large buckle support the torso and maintain the user's stability in the tub.
Door Drain
With a drain that feeds into the main draining system, this feature quickly removes excess water. In doing so, it helps users avoid potential slips and falls that can be dangerous, especially for those that live alone.
Non-Slip Floor
The best walk in tubs should be made with a textured, non-slip bottom so users' feet can find traction while in the bath. This feature is especially important to prevent slips and falls when getting out of the tub.
Low Step Entry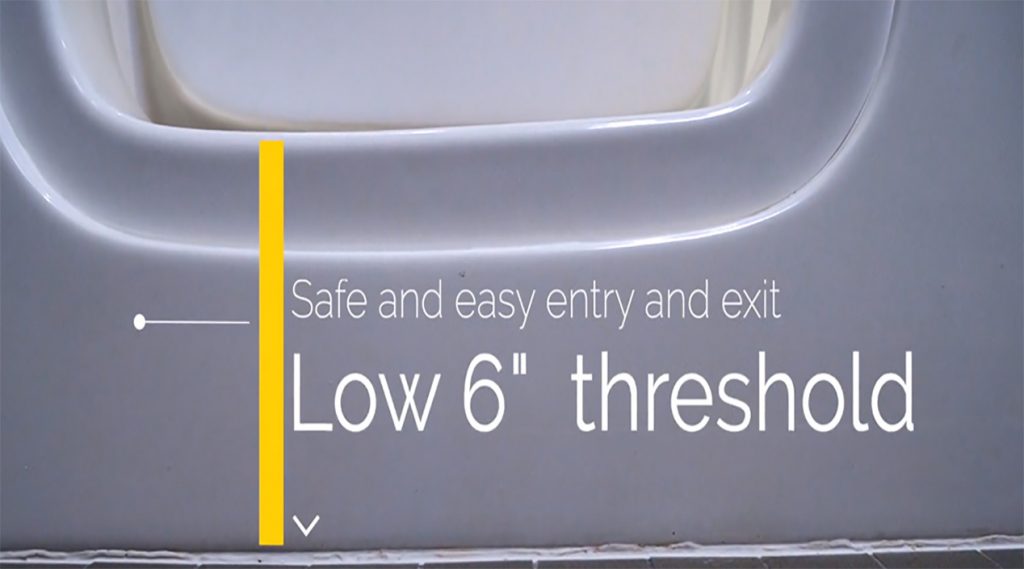 Perhaps the most significant benefit of walk-in tubs is that they offer low step-in entry. Users don't have to lift their legs to enter the bath.
As you may know, slips and falls typically happen because users have to lift one knee high and balance themselves on one foot to lift the other to get out of standard bathtubs. With a low step entry, this risk is eliminated.
Comfort Features
After safety, your next goal for your walk-in tub should be to make it comfortable. After all, baths are supposed to be a time to relax. Here are some features that will enhance your comfort.
Seat Cushion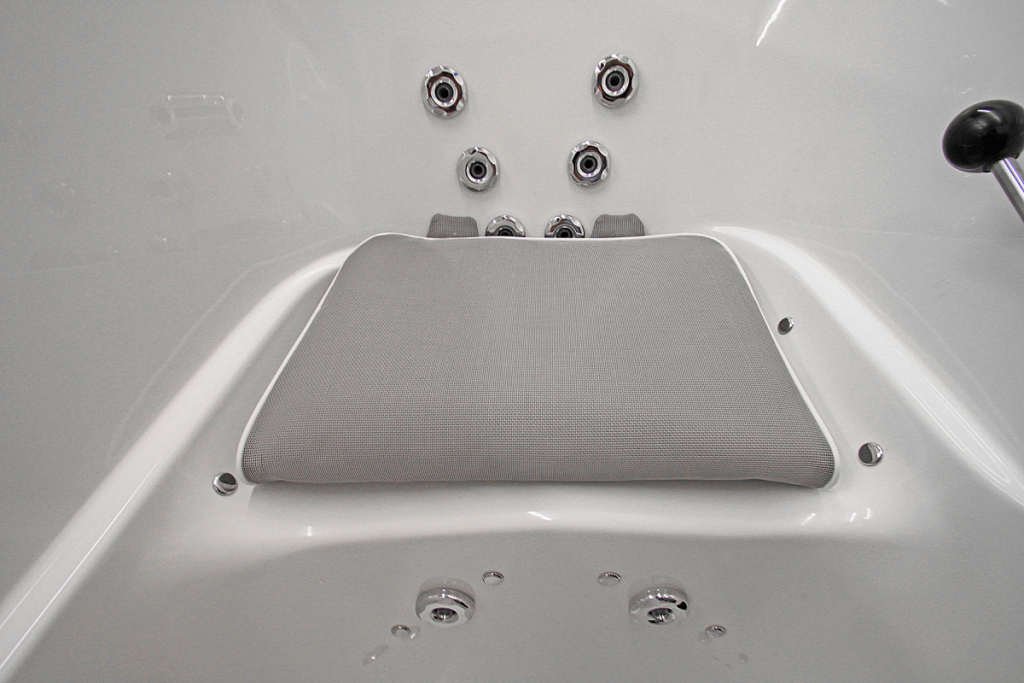 The seat cushion secures to the contoured seat and provides a soft surface for sitting. This makes the bathing experience more comfortable, especially if you anticipate staying in the tub for a while.
Neck Pillow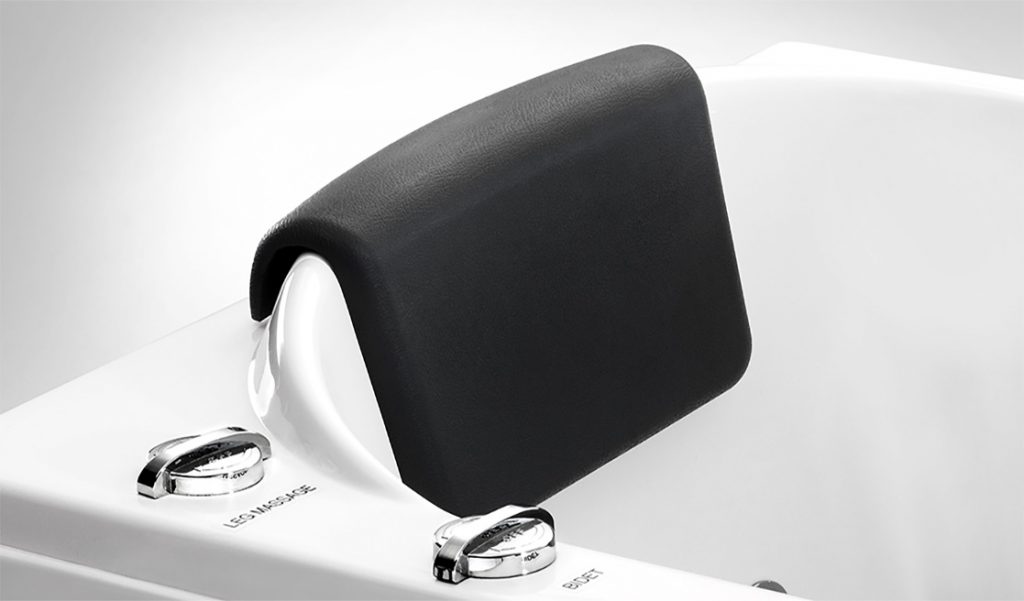 The neck pillow is an additional comfort feature that helps to alleviate neck pain and cramping common to bathtub use. Users can sit back and relax as the calming water washes over them and takes the stress of the day away.
Spa Experience Features
If you have wiggle room with your budget, you might want to add spa features onto your walk-in tub. Massage jets provide extra comfort to seniors struggling with pain in their muscles and joints. These also make the tub a treat for users of any age.
Hydromassage System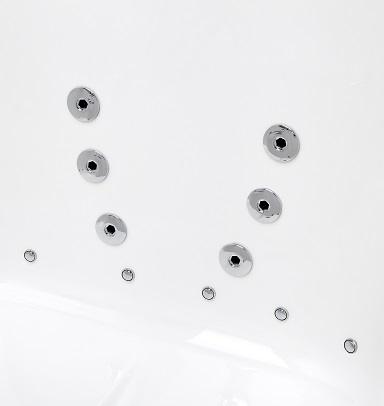 The hydromassage system hits key pressure points to stimulate and provide relief to muscles and joints. The hydrojet feature targets both upper and lower back pain along with the back of the calves and the bottom of the feet with adjustable jets. An optional bidet hygiene jet is also available with this system.
Air Massage System 
With an air massage system, users can expect a bubbly massage that delivers circulatory benefits for a healthy lymphatic system. The air jets target the entire body and can be combined with the hydromassage feature to optimize the effects of both systems.
Microbubbles
.01 mm bubbles provide skin-enhancing benefits. This system is ideal for those who suffer from skin conditions like eczema. The bubbles exfoliate the skin, penetrating the pores and removing dirt and oils.
Leg Massage
Working through the hydromassage system, the leg massage is a great solution for those who may suffer from diabetes or arthritis. These users may experience pain, numbness, or impaired blood flow in the lower half of their bodies. The leg massage feature stimulates the legs and feet, and promotes blood circulation in those areas.
Chromotherapy 
Chromotherapy uses light to provide therapy to the body. Each color has a unique wavelength, frequency, and quality that interacts with the body and impacts energy levels. The colors can make your bath experience much more enjoyable and further promote relaxation.
Aromatherapy 
Aromatherapy uses strong, pleasant scents to ease pain, anxiety, and other ailments. In a walk-in tub for seniors, aromatherapy beads can be placed in a diffuser mounted on the deck. The diffuser releases your chosen scent during your bath, adding to the relaxing, healing atmosphere.
Customizable Features
Beyond safety, comfort, and luxury, you can also affix other features onto your walk-in tub to simply make the whole bath go by much more conveniently. Here are some customizable features you can add to make the bathing process more efficient and precise.
Faucets
You can choose between a variety of 3-5 piece chrome, satin nickel or rubbed bronze  faucet sets. Each of our faucets has a fast-fill feature which allows your tub to fill in a timely manner.
A retractable hand-held shower wand allows you to target the hard-to-reach spots on your body much more easily than with a showerhead.
Glass Shower Door
To make your walk-in tub a shower-and-bathtub combo, you can add an elegant, glass shower door to keep water from escaping  when you shower upright. This helps keep the floor outside the tub dry. Dry floors go a long way in preventing slips and falls.
What features do you look for in a walk in bathtub for seniors? Give us a call and let us know!
If you would like to get a walk-in tub for yourself or a loved one, give California Energy Contractors a call at (855) 779-1413 or visit our website.