You can't turn on HGTV, open a home décor magazine, or scroll through your favorite interior design Instagram page without noticing them. Black window frames and doors are one of the most prominent exterior style trends of this year. They're rising in popularity, allowing homeowners to break free from the neutral color pallet. They're more than just a temporary fad and can work with a variety of homes. If you've been looking for a way to modernize your space without an expensive remodel, read on!
Interior and Exterior Advantages
This simple yet incredibly bold style choice will improve the look of your home's interior and exterior. From the inside of your home, black windows will turn your outdoor view into a framed work of art. No more stressing about whether or not every part of your home matches; black window frames pair with a wide variety of colors. It's a classic neutral color that goes with just about every color. Pairing it with lighter shades works well to enhance both colors and creates a striking visual appeal. Combine them with light-colored trim to create a polished and sophisticated look.
They're Trending for a Reason
Dark-colored windows and doors are more than just a fleeting trend and are becoming a home design staple. While they're considered a modern style, one of the reasons they're becoming so popular is because they are complementary to traditional homes as well. Plus, it's an easy and inexpensive way to give your home a huge boost in curb appeal. Owning a home is an investment, and you should show it off a little!
Find Your Style
From farmhouses to industrial designs, these windows look stunning on just about everything! They'll add the desired aesthetic without the need for expensive window treatments or the cost of redesigning your home. While few rules apply to black windows, there are some general rules of thumb to follow:
Typically, the sleeker the window frame profile, the better.
They look better on standalone windows without external shutters.
Dark colors doesn't only mean black; we have a variety of color options! You can customize your windows with colors like Espresso, Forest Green, and everything in between. These colors do more than just enhance the look of your home; Anlin Apex Xtreme exterior colors come with a solar reflective coating to help keep your house cooler during those hot California summers.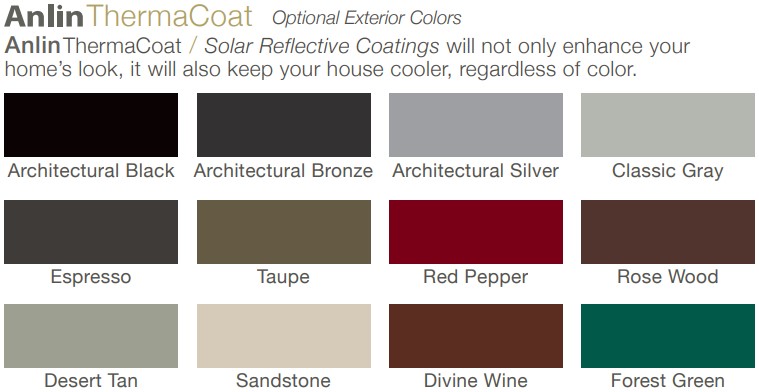 We're Here to Help
If you're ready to modernize your home and turn your beautiful windows into a focal point, give California Energy Contractors a call! We can help you select the best window to match your home and go over the different color options for both the window frame and trim. With Anlin's wide variety of heat reflective color options, you have an endless amount of design options to choose from. If you want to learn more or get started, you can call us at (855) 779-1413 or contact us on our website.