For warm and hot climates, energy-efficient windows can make a night-and-day difference in your home. The Anlin SunMatrix glass is a next generation glazing system with the best window technology in the industry. The SunMatrix glass is the only true continuous internal 4-layer low-E coating system in the industry. The 4 layers of low-E coating will provide optimal solar reflective performance during the hot summer months, blocking 99% of UV rays. The SunMatrix glass exceeds the Energy Star requirements in all climate zones in the US and even improves your home's comfort during the winter. When combining the Anlin SunMatrix with Anlin QuadraTherm heat retention coating, you will get the best value for both Solar Heat Gain performance and U-Factor. The windows benefits include:
4-layers of low-E coating
Blocks 99% of UV rays
Excellent solar protection
Keeps your home's interior temperature comfortable year-round
Easy Clean Exterior Coating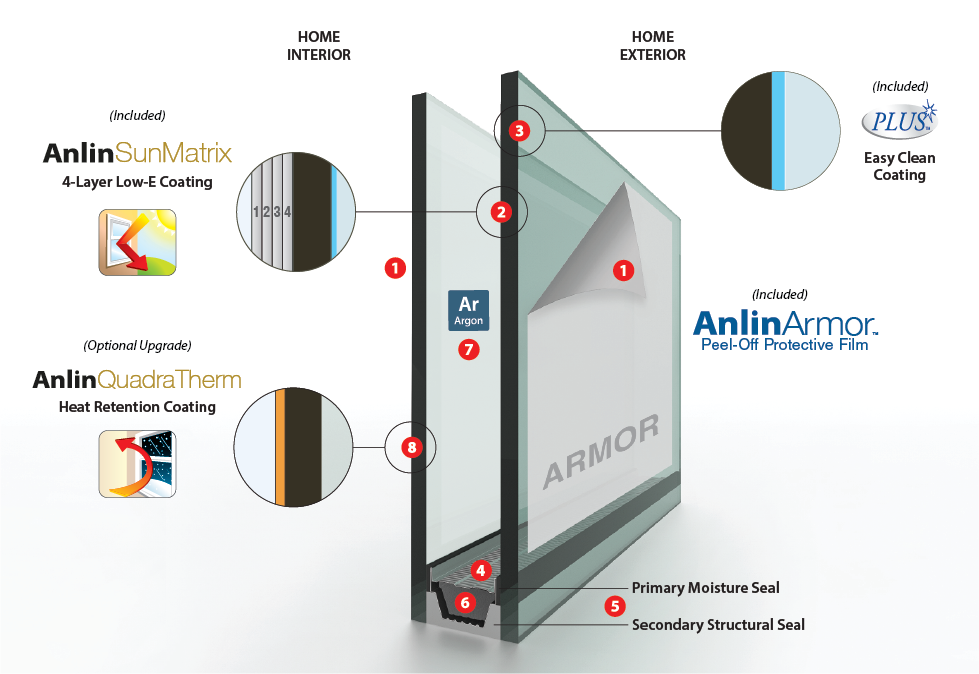 Window Features
The Anlin SunMatrix glass brings you the best quality sun reflective technology from manufacturing to installation. Here we've highlighted some of the main window features and benefits:
AnlinArmor – To keep your window in pristine condition throughout the entire process, Anlin applies a protective film that is easy to peel off
Anlin SunMatrix – The glass includes 4-layers of low-E coating to reflect the sun's rays and significantly reduce the amount of solar heat that enters your home.
PLUS Easy Clean Coating – An exterior coating that keeps your windows clean longer. The PLUS Easy Clean Coating harnesses the sun's UV rays to break down pollutants and dirt so water can quickly rinse it away. It dries three times faster than uncoated glass to give you fewer visible water spots
Platinum Elite Spacer – The edge spacer in the window system is the most advanced, low conductance, thermally efficient edge spacer in the industry
True Dual Seal – A commercial rated structural silicone (gray) is fused with a moisture vapor barrier (black) to assure lifetime durability for your window system
Moisture Stop – Any moisture vapor within the unit is continuously extracted with an advanced Silica drying agent
Argon Gas – A layer of insulation that slows heat transfer through the insulated glass and increases the thermal efficiency of the window up to 15% (optional upgrade in Anlin SunMatrix, included with QuadraTherm upgrade)
QuadraTherm – During the cold days and nights, a heat retention coating will help keep more warmth inside your home (optional upgrade)
When living in a warm or hot climate, you shouldn't suffer inside your home. Let California Energy Contractors help make your home comfortable and energy-efficient with an upgrade to Anlin SunMatrix, available with the purchase of 5 and more windows! Give us a call at (855) 779-1413 or fill out our online form for a free estimate and in-home consultation.