Successful home improvements consist of two essential factors: professional installation and quality products. At California Energy Contractors, we have been creating energy-efficient homes since 1999, and we choose to work only with the most reputable manufacturers whose products meet and exceed the industry standards. But what if a manufacturer offers multiple product lines that are comparable in performance and aesthetics? How does a homeowner distinguish between them and decide what product would work best? 
In this blog, we'll tell you about the differences between the Anlin Panoramic window and the Anlin Catalina window.
Anlin Panoramic Window vs. Anlin Catalina Window
Here are the reasons why we recommend homeowners choose one over the other. Anlin windows are custom-made specifically to fit the openings in your house. So if the house has really large windows, then they will benefit from the Anlin Catalina series. They have a little bit more frame on the profile compared to Anlin Panoramic windows, but they also give you an equal sight line, which many people really enjoy. 
If the windows at your home are not very large, then it makes sense to try and maintain as much glass surface and airflow as possible, and to achieve that, we are going to suggest the window with a thinner frame, and that's Anlin Panoramic.
Sometimes people ask if one window is better than the other and if the quality is different between the Catalina and the Panoramic, and the answer is no. The quality is identical, and the difference is in the looks. It's just that the Panoramic window has less of the actual vinyl frame. Both windows will come with energy-efficient glass, a very high grade of glass featuring triple layer coating. They're also going to come with high-quality rollers and a constant-force stainless steel balance system, as well as the triplefin weather stripping.
Even Sight Line
So the bottom line is that if you are a person who is very, very keen on having an even sight line, you want the fixed panel of glass and the slider side to be identical in the sight line, with the left side and the right side glass exactly the same size, then you're going to want to go with the Catalina window.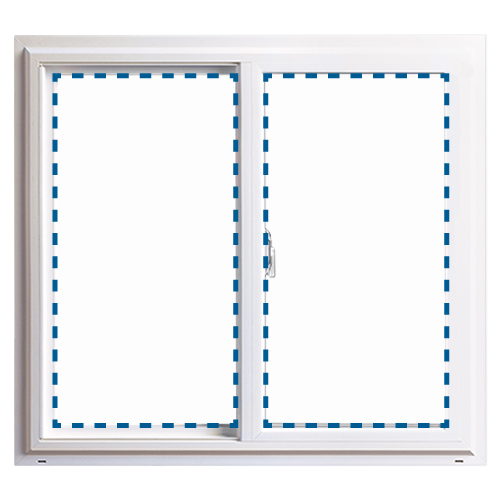 Another difference is that Anlin Windows and Doors is able to put a vent stop in the main frame of the Catalina Window. Vent stops were specifically designed for non-tilting and tilting double-hung and horizontal sliding versions of windows. They are able to make windows significantly more secure. There's not enough frame on the Panoramic window to allow for a vent stop to be installed in that frame, so you don't have that option. However, with Panoramic windows, you can always upgrade to a sash bolt, and that will plunge down into the track, so it acts as a vent stop, but it would have to be added later.
Keep in Mind HOA Requirements
Another thing to keep in mind if you are looking to replace windows in a condo is HOA requirements. Many times there is a stipulation on how much vinyl they allow in your replacement windows. A lot of times, they're going to want under a three-inch frame. From the edge of the frame that they can see from the outside to where the glass starts, they want that to be under three inches. Suppose that is the requirement, so more times than not, it is not possible to achieve it with Catalina windows unless the installation crew cuts down the frames or the vinyl flanges. With the Panoramic windows, the homeowners can definitely stay within the three inches. So the three-inch rule is something to keep in mind if you want to replace windows in a condo. 
We hope this helps you understand the difference between a Catalina window and a Panoramic window. They are both manufactured by Anlin Windows and Doors, and both are of the highest quality. The major difference is a smaller frame versus a larger frame that's going to give you even sight lines. If you have more questions about Anlin Windows and Doors or if you are interested in getting replacement windows or patio doors, don't hesitate to contact California Energy Contractors. You can click on the get a free quote and fill out that information, and we'll reach out to you within 24 hours.