Bathing seems like a simple daily task, until you become a senior. With age, one's mobility becomes limited, even with perfect health. Bathing becomes a risky, time-consuming activity for all those with limited mobility, especially for those that use standing showers. In this blog, we'll discuss walk-in tubs vs. standing showers and go over which is best for seniors.
Safety
One of the biggest reasons for people having standing showers or walk-in tubs is because of their low-entry threshold. Having to lift one leg to get over the high bath wall is a big risk factor for slips and falls. Since all the weight is put on one leg to get the other over the tub wall, the risk of losing your balance is high, especially for those with limited mobility. Walk-in tubs are significantly safer as they offer a low-entry threshold. This eliminates the risk of clearing a high tub wall. Also, when bathing, it's safer to remain seated while doing so as it eliminates the risk of slipping while standing. With a standing shower, the bather is standing upright, which increases the danger of slipping and falling while bathing. Walk-in tubs can come with seats that completely eliminates that risk.
Therapeutic and Health Benefits
Both baths and showers have scientific evidence showing their benefits. For example, standing showers have been shown to be more hygienic because the bacteria washes down the drain. However, baths are shown to have extraordinary therapeutic benefits when it comes to skin and health. Studies have shown how heat can be beneficial for relieving minor aches and pains. Soaking in a warm bath for twenty minutes can help ease the pain for people that deal with joint pain and arthritis. A simple bathtub can provide this, but a walk-in tub can take this to the next level by providing users with hydromassage and other therapeutic functions that gently massage painful joints and help increase circulation. A standing shower cannot offer you this benefit.
Ease for Caregivers
If you or your loved ones have a caregiver, a walk-in bath will make the bathing process a lot more easier for them. Showers make it hard for the caregiver to reach inside while not getting splashed with water. Baths are the best method for someone to help bathe another because they allow the bather to stay stationary and the helper to remain outside of the water. However, even regular bathtubs can be difficult to work with. Walk-in tubs make it easier for the caregiver to reach the person since they don't have to bend down to reach the person.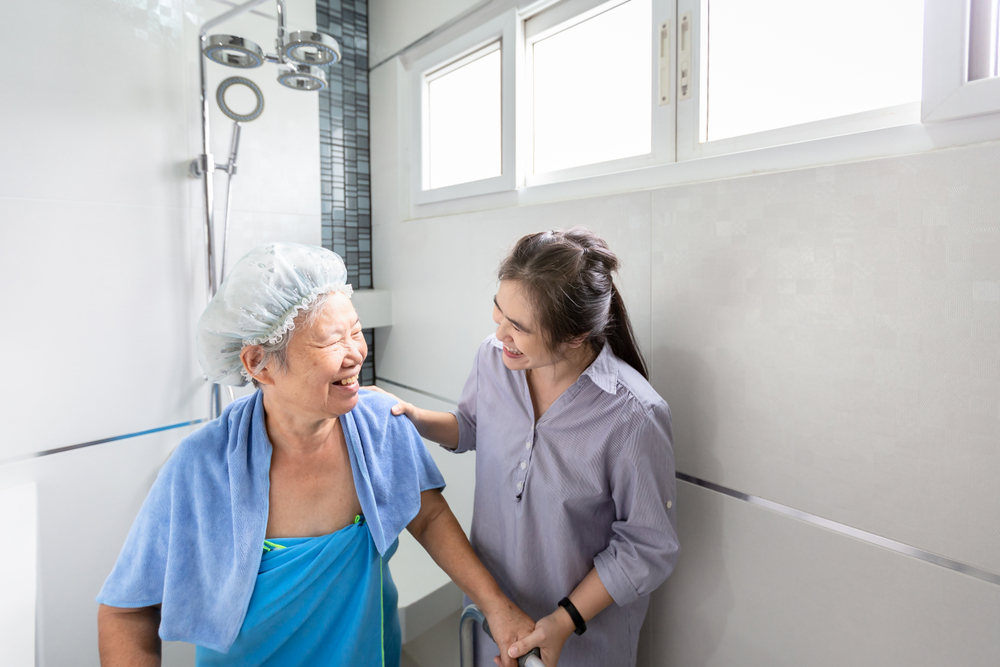 Investment in the Future
Showers are usually the preferred choice for bathing with younger, more able people. However, when one reaches an older age, standing in a shower can become a heavy task as it's tough on the joints. When you're young and able, you may not realize just how difficult bathing can become later down the road. That's why it's a great idea to invest in walk-in tubs early on. These days, most seniors prefer to age in their own home rather than in a retirement community. Walk-in baths give them a chance for independence. Investing in a walk-in tub means investing in the future so that you can age at home and be comfortable bathing yourself independently for as long as possible.
With age comes many difficulties, especially when it comes to bathing oneself. Standing showers can be a choice for bathing, however the benefits of walk-in tubs significantly overshadow that of anything else. They're safer, they provide great therapeutic/health benefits, and they provide ease for caregivers. We hope this blog helped you see the differences between walk-in tubs vs. standing showers when it comes to people with limited mobility. If you would like to get a walk-in shower for yourself or a loved one, give California Energy Contractors a call at (855) 779-1413 or visit our website.